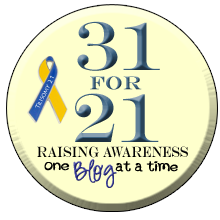 Well, it's that time of year again. October is Down syndrome Awareness month and if you read my blog you are AWARE of why this is a special month to me : ) The idea behind this 31 for 21 is that participants will blog each of the 31 days of October to raise awareness of Ds - hence the 21 for Trisomy 21. Got it? I have failed miserably in past years so hopefully I can get my act together this October and stick with it. I don't know how many of my posts will be insightful, most I'm sure will be pictures and probably summer flashbacks (because I was a horrible blogger this summer and I have tons of cute pics to post.)
I will kick this thing off by asking for help......
Yesterday I took Ella to the eye doctor. I was told when Ella was born, "MOST children with Down syndrome need glasses," and you need to keep her vision closely monitored. (I hate generalizations and perhaps that is why I'm not liking this.) Ella, this past year or so, has been going to the eye doctor every 3 months. I love her doctor. He is not quick to put kids in glasses, likes the wait and see approach, which I like. Anyhow, today he informed us that Ella needs glasses. Apparently since we were last there in June Ella's eyes have changed quite a bit, well that and she was actually cooperative today and he got a really good look at her eyes. She is farsighted, has an astigmatism, and one of her eyes is crossing and the muscle is breaking down, so glasses it is. I am thrilled *insert heavy sarcasm*!!! That child fights me over EVERYTHING, I do not think this is going to be pleasant for either of us.
We went to the optical shop and tried on, against Ella's will, several pairs of glasses. I have to say that I did not care for the glasses that most kiddos with Ds are getting these days, they really just looked awkward on Ella's face to me. The lens part of them barely went past her actual eyes and they looked too small to me. The shop let me bring home 6 pairs of frames to try on again, my guess is because Ella was being a pain, a BIG pain in the shop and they wanted us to hurry up and leave. (not really they were super nice, but still.)
I thought I would be way more upset when this day came, and really I kind of figured it was coming. I don't know what it is. Part of it is that it is just one more thing to deal with. Part of it is something more for her to get picked on for? Part of it is vanity on my part, she is such a beautiful girl and I don't want to cover up her face. Part of it is money, they are not cheap! BUT, after the doctor explained to me the issues that Ella is having I of course want her to have every advantage and obviously vision is so important. So here we go!!
So I've narrowed it down to 3, 2 really, but here are pictures of Ella in the top 3 pairs. Keep in mind that none of these have been adjusted at all, they are straight off the rack and that Ella has been crying, throwing a fit, and her eyes have been dilated so she looks like a mess! What do YOU think???
Pair 1, If I get these we will order them in pink