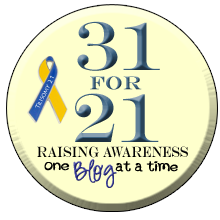 Here is the follow up video to yesterday's video....... see below video after.
Link to video
HERE
if you aren't getting the video
It took us awhile to figure out what she was saying.....because surely my sweet baby would never say swear words : ) It turned into a game of charades, with her getting down and hopping like a frog while saying "ribbit." So I think she is either combining frog + shirt or frog + ribbit to = f**k it. Of course Hunter keeps asking her to say frog and I will admit we all giggle like crazy!