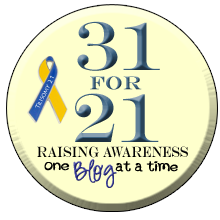 First I would like to say a big THANK YOU to all my bloggy friends who commented on my last post, as well as those of you that commented on Face Book. I love how I can write something, such as my concerns/fears about glasses for Ella and feel so stupid for feeling those things, and within 24 hours feel so much better about it. It is always nice to know that you aren't the only one that has those thoughts......that you are not alone!!! After tallying up the votes and really listening to what you guys said, especially you RK, we are going with the 1st pair and they will be "shiny pink" in color!! Thank you guys so much!
So, like I said in my last post, I am way behind in blogging. The first day of school for the kids this year was Wednesday September 8th. That morning at 6am I left on an airplane headed to Atlanta to attend a DownsEd Conference (which was AMAZING and I will post about that later.) I do NOT leave my children. I have spent two nights away from Ella, one when I had surgery, Ella was about 7 months old, and my mom flew down to Texas to keep her and once this past December when the kids both spent the night at my moms. I just don't do it. Sure Hunter has sleepovers at Nana and Grandpa's house but that is about it. Anyhow, I convinced myself that it was okay to go out of town for 5 days and attend this conference. After I bought the ticket and everything was paid for I find out that the first day of school will be on the Wednesday after Labor Day instead of the Tuesday like it was last year. I was so upset that I was going to miss the first day of school. I totally cried.
Hunter started a new school this year. Last year he was at a Kindergarten Center, a school with only Kindergartners and this year he started the actual elementary school. Overall I didn't have too many worries with Hunter. He is a smart boy, very social and loves school. BUT, Hunter has some anxiety issues and is pretty sensitive so I didn't really know how he would take me not being here. Then there is Ella. Ella thrives on routine. Starting school obviously is a change and this year we opted for morning preschool rather than afternoon and as I mentioned I do not spend nights away from Ella. I was afraid that she wouldn't understand that I am just gone for a few days but that I am coming back. School itself I was so NOT worried about, Ella has the same teachers this year and they are FABULOUS, seriously I love them!!! Anyhow, as usual my kids proved me wrong and really I don't think they missed me one bit and daddy did a wonderful job taking over my duties!!! I made Chris and my mom swear to take lots of pictures of the kids before they headed off for the 1st day and they did a great job!! Here are the pics that were waiting for me when I got back!!!
Apparently Ella thought it was funny face time
My beautiful 1st grade boy!
Here he is with the note I left him, wearing it on his shirt. He is sentimental like that : )
Here is Hunter the 1st day of Kindergarten last year. Man he has grown up so much!