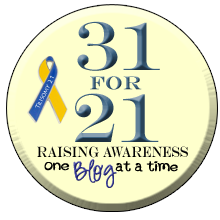 It seems that, for the past 4 days anyhow, the evil that has possessed my daughter has left her body. I don't know what happened. Maybe because she has been out of school for the week and has yet to have any therapies and she is just relaxed? I hope that's not the reason. Whatever it is, I like it! Ella has been SOOOOO good lately. Like REALLY good. And talking like crazy. On Monday evening her and I went to the mall, we got out of the van and started to head in and Ella says "Brrrrr cold outside, run quickly!" I said what? "run QUICKLY," she said obviously annoyed that I didn't hear her the first time. Then I was in the dressing room trying on a shirt and Ella got a panicked look on her face and Ella said "Ella go potty quickly!" so I tried to hurry and put my clothes back on while she was trying really hard to hold it in, then we ran QUICKLY to the bathroom. We made it! Such a big girl my Ella is getting to be.
Then on Tuesday the day I have been dreading came and we got the call that Ella's glasses were in. We headed downtown to get them, all the while Ella is in the backseat saying "don't wike it glasses." Great. She was not very cooperative when the lady was trying to adjust them to her face. (She doesn't like people touching her face.) I was thinking it was going to be really rough. But once they were on she did fabulous. She wore them for 3 1/2 hours, including riding in the car and going shopping, and did NOT touch them! I took them off for her nap and as soon as she woke up put them right back on. She took them off once, folded the arms in properly and laid them on her dresser because she had decided to take off her shirt. (she's a bit of a stripper : ) I cannot tell you how relieved I am. She has wore them for 3 days now and totally leaves them alone. We had to go yesterday to get them tightened because they were sliding a bit, but otherwise this has been a great experience. I'm a bit saddened because I keep thinking these must help her see so much better or she wouldn't tolerate them, which means that she possibly could not see well before?
Ella does have a tendency to peek over her glasses at you, only when she is looking up at something, which is a lot of things because everything is bigger than her! But when I say "Ella you need to look at me through your glasses she totally lifts her chin and looks through them. I am SOOOOOO proud of my big girl!!!
Peeking over....
I think what will drive me the most crazy is that they always seem crooked to me. But after further examination by myself I think one of her ears sits lower than the other and then one eye is bigger than the other. I realize we probably all do, I know one of my eyes is bigger, it's just amplified in these glasses. I'm going to have to learn to let go a bit....